https://www.daycollective.com/softedges
Practices of care
Soft Edges at Window Show
For the two months installation in the vitrine we would like to propose two drawings and one hanging sculpture. The Soft Edges installation could be experienced during one day exhibition. It will consist of a selection of drawings and sculptures that could be composed in the workshop space taking the size and architecture into consideration. Read more and see pictures of the one-day event.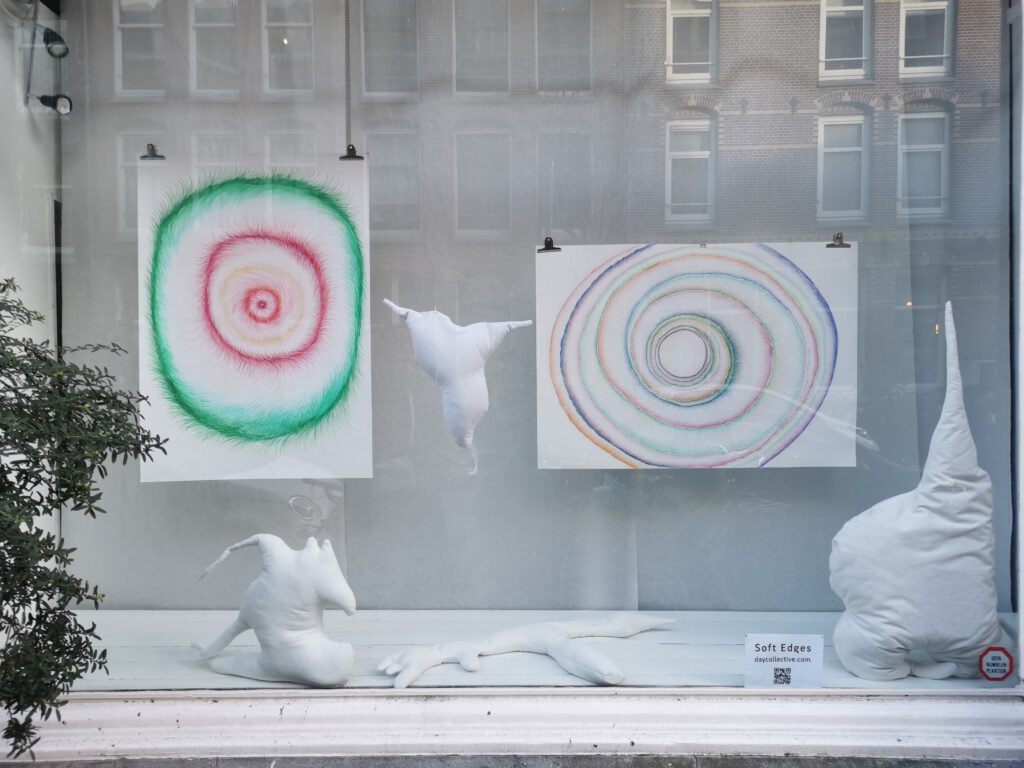 Social Context
The times we live in are filled with the tense energy of human relations. This energy is so red-hot that Planet Earth itself is distressed. There is so much pain, sorrow and categorisation – from private to public, from short interactions to long relations – that there is a clear need for soft edges, tactile structures, slow breathing and organic forms.
Daring Tranquility
We propose our future project Soft Edges, an interactive installation of tactile abstract drawings and sculptures as a response to this situation. The departure point were the drawings we both started to make at the beginning of the first lockdown formed in the series "Stories of Matter". They create an environment with a unique quality — daring tranquility. This affords the viewer a moment to find peace and allow their energy to charge positively. This energy could spread further and grow. Acknowledging the intelligence of our bodies and of every human body, and the healing quality of touch, a tactile encounter is so significant to the experience of Soft Edges. This type of knowledge is becoming less present in contemporary western society where spending time digitally occupies our daily routine. In this work people are invited to an intimate environment, where they can relax and imagine the narratives of the Soft Edges' drawings and sculptures.