From March 15, 2022
We do a closure with music on Saturday, April 23, 2022 4pm. EXTRA: KINGS EVENING APRIL 26, 7pm.
Artist and singer Rinzo Rinzo opened a new installation in the Window Show. With special help of Els Bruinewoud (dress) and Bjorn Muller (window dresser). Poet Freek Wallagh recited poems.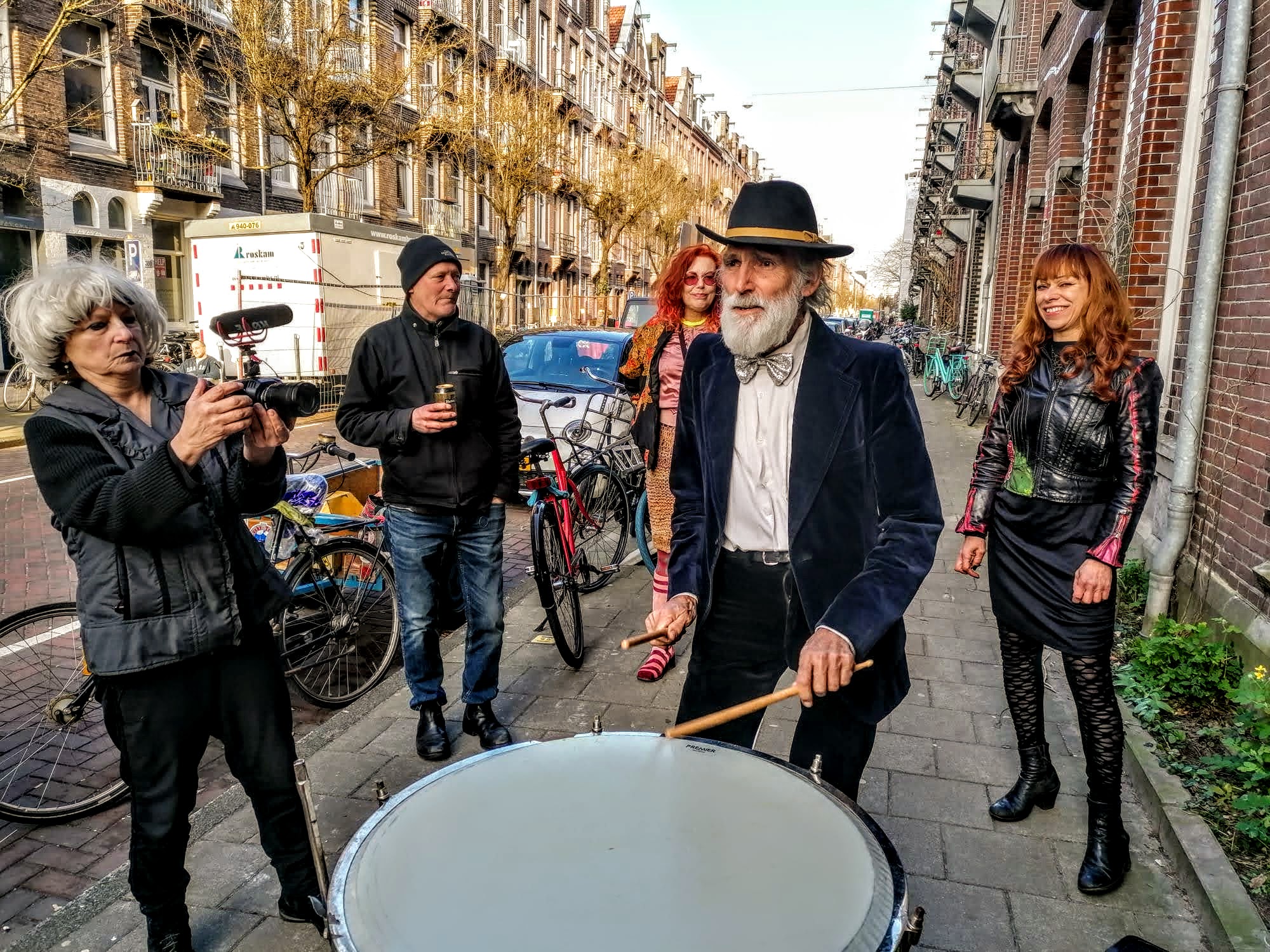 The exhibition: 'Who killed Marilyn?' is a tribute to the legendary actress Marilyn Monroe who continues to inspire to this day. One of her best-known films is: 'Some like it hot!' from 1959. In 2000, the film took the number one place in The American Film Institute's list of 100 best film comedies. 'The Seven year Itch' has also become very famous, especially due to the scene in which Marilyn's dress blows up several times because she is above a ventilation grille. This scene was originally shot on the corner of 52nd Street and Lexington Avenue in New York. Because there was a large audience around it, the recorded material was unusable. After this, the scene was again recorded in a studio. The dress was auctioned in 2011 for $5.6 million. Why does Marilyn Monroe continue to spark the imagination? She shone on the silver screen, died at a young age and many more aspects probably made her a legend.
Concept: Rinzo; Dress design: Els Bruinewoud. Window: Bjorn Muller; Poem: Freek Wallagh; Film: Barbara den Uyl; Timpani: Fons van Tienen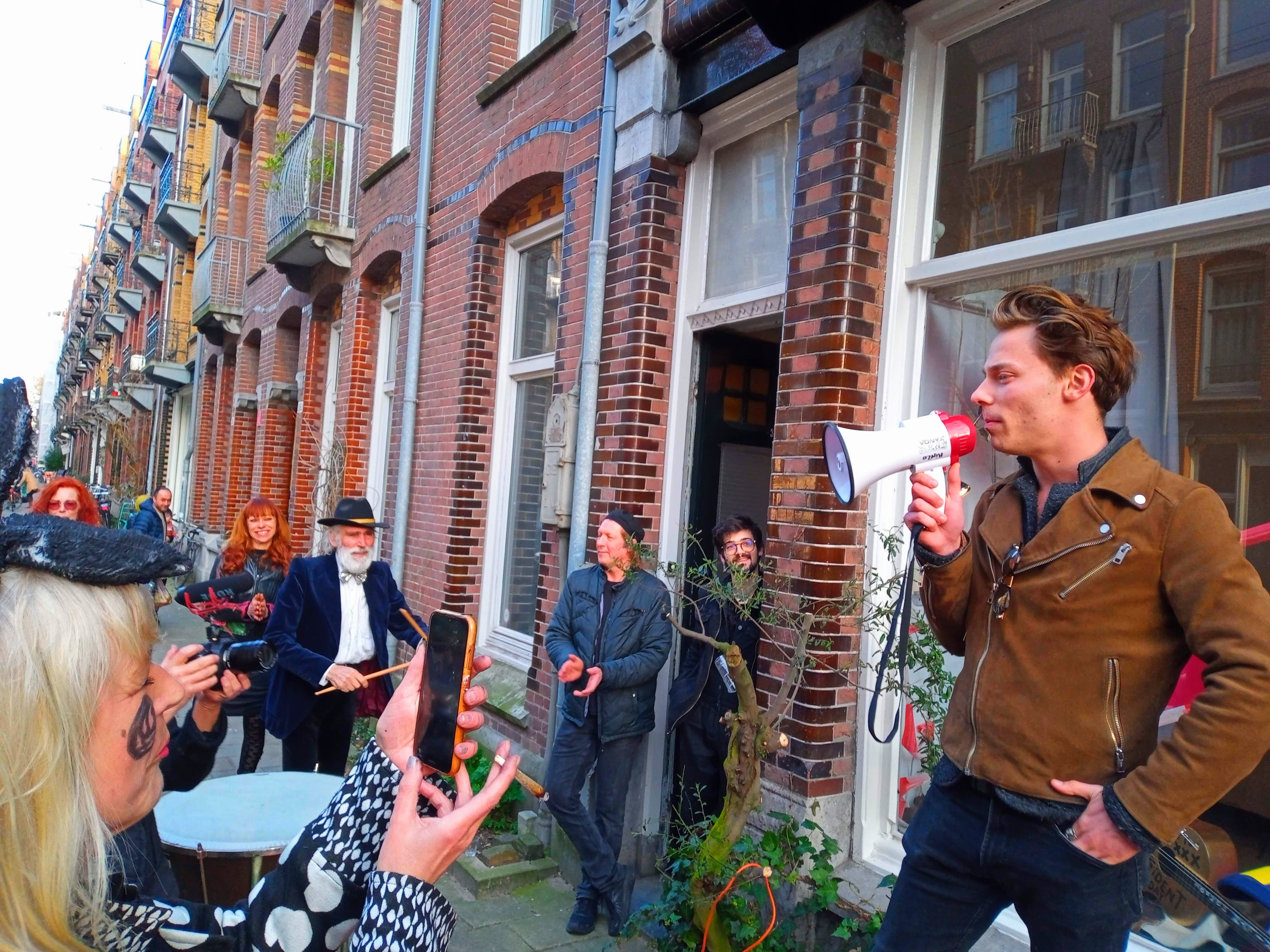 De expositie: 'Who killed Marilyn?' is een hommage aan de legendarische actrice Marilyn Monroe die tot op de dag van vandaag blijft inspireren. Een van haar bekendste films is: 'Some like it hot!' uit 1959. In 2000 verscheen de film op de eerste plaats in de lijst van 100 beste filmkomedies van The American Film Institute. 'The Seven year Itch' is ook heel erg beroemd geworden met name door de scene waarin de jurk van Marilyn meerdere malen opwaait doordat ze boven een ventilatierooster staat. Deze scene was oorspronkelijk opgenomen op de hoek van 52nd Street en Lexington Avenue in New York. Doordat er veel publiek omheen stond was het opgenomen materiaal onbruikbaar. Hierna werd de scene nogmaals in een studio opgenomen. De jurk werd in 2011 geveild voor 5,6 miljoen dollar. Waarom blijft Marilyn Monroe tot de verbeelding spreken? Ze straalde op het witte doek, stierf op jonge leeftijd en nog veel meer aspecten maakte haar waarschijnlijk tot een legende.
Concept: Rinzo; Jurk design: Els Bruinewoud; Etalage: Bjorn Muller; Gedicht: Freek Wallagh; Film: Barbara den Uyl; Pauken: Fons van Tienen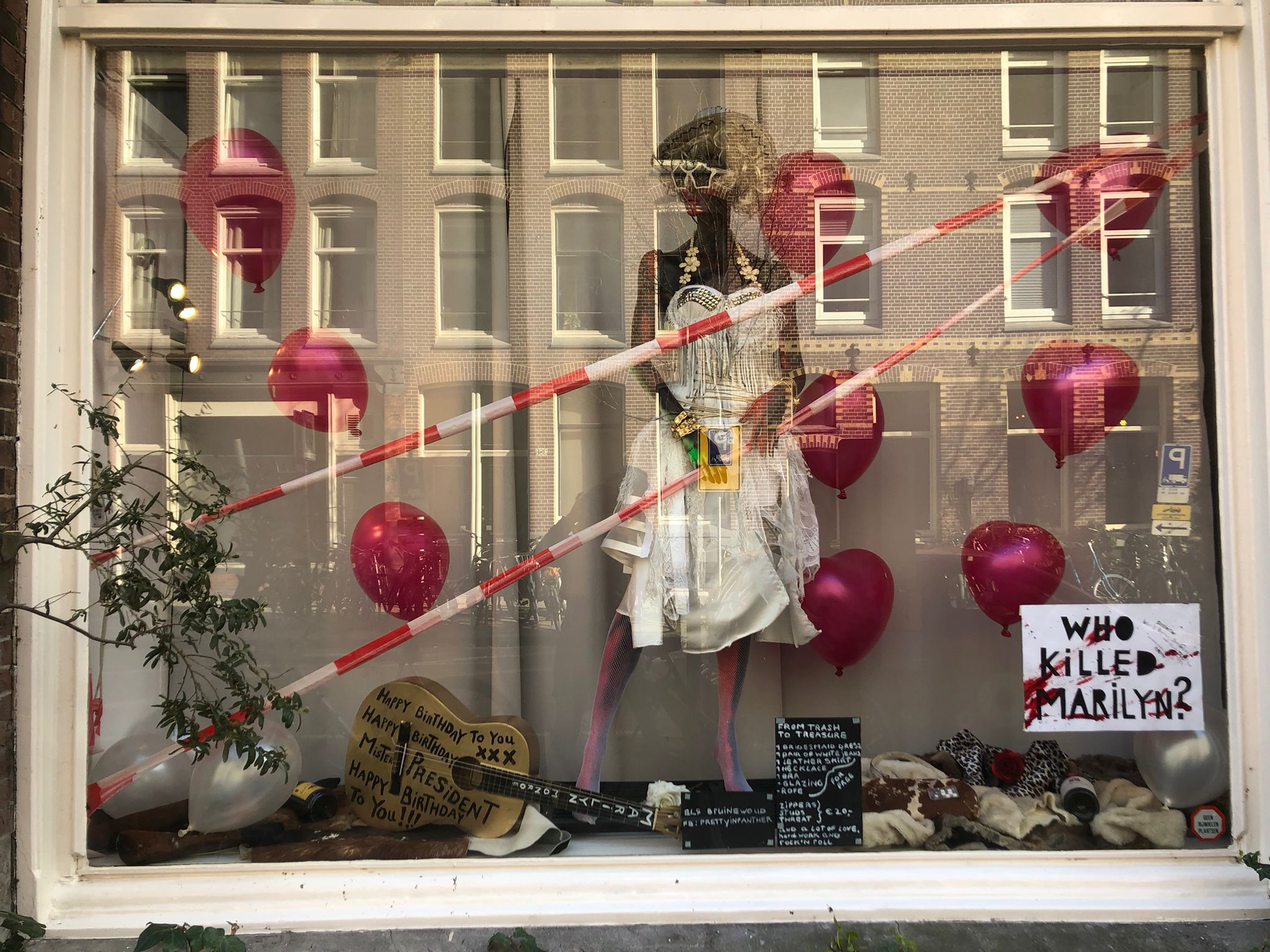 Who killed Marilyn?
Op zondag 5 augustus 1962 werd de wereld opgeschrikt door het trieste bericht dat Marilyn Monroe zelfmoord had gepleegd. Dr Theodore J. Curphey van The Los Angeles County Coroner's Office oordeelde dat de dood was ingetreden in de nacht van 4 augustus of in de vroege morgen van 5 augustus als gevolg van een acute "barbituraat-vergiftiging", een "waarschijnlijke zelfmoord". Familie en vrienden van Marilyn bleven echter met heel veel vraagtekens zitten, omdat Marilyn nog volop in het leven stond. Ze was weliswaar onder behandeling van een psychiater, omdat ze een wild leven leidde en veel drugs gebruikte. In de dagen voor haar dood belde ze nog met vrienden, en ze had nog veel plannen voor de toekomst.
Door de jaren kwamen er steeds meer complottheorieën naar boven en haar plotselinge dood bleef de media bezighouden. In de afgelopen 60 jaar kwamen er ook veel boeken uit over Marilyn en iedere keer leek het mysterie rondom haar overlijden alleen maar groter te worden. Dit zijn de meest opzienbarende boeken: 'Bombshell' (2021) door Mike Rotmiller, 'The murder of Marilyn Monroe: case closed' (2014) door Jay Margolis en Richard Buskin, 'The dark side of Camelot' (1997) door Seymour H. Hersch, 'The assassination of Marilyn Monroe' door Donald H. Wolfe (1998) en 'JFK A Candid Biography' (1998) door David C. Heyman.
'Bombshell' (2021) van Mike Rotmiller is een recent uitgegeven boek over de doodsoorzaak van Marilyn Monroe en werpt een nieuw licht op deze bizarre zaak. Detective Rotmiller werkte 10 jaar voor The Los Angeles Police Department(LAPD) en in zijn boek komen er veel nieuwe feiten aan het licht. Hij werkte vanaf 1982 op het bureau waar geheime dossiers lagen van Marilyn Monroe en heel veel andere beroemde personen. Op geschikte momenten kon hij deze inzien en stiekem gedeeltes overschrijven. Hij stuitte op veel gedetailleerde informatie en verbaasde zich over de hoeveelheid materiaal dat hij aantrof in het archief. Allerlei namen kwamen in geheime dossiers voorbij waaronder die van Frank Sinatra, John en Bobby Kennedy. Na tien jaar werd hij overgeplaatst naar een ander bureau en nog veel later werd hij privé detective en begon hij boeken te schrijven over allerlei misstanden bij de politie. De zaak Marilyn Monroe raakte in een stroomversnelling toen hij de enige nog levende betrokkene kon interviewen over haar mysterieuze dood. Het was de acteur, en tevens zwager van John en Bobby Kennedy, Peter Lawford. Hij was goed bevriend met Marilyn geweest en had dus mogelijk meer informatie over haar plotselinge dood. Het gesprek vond plaats in een park en de bevindingen van Mike Rotmiller werden bevestigd door Peter Lawford. In dit bloedstollende boek lees je hoe deze doortastende detective de zaak Marilyn Monroe langzaam weet te ontrafelen.
Heeft Rotmiller voldoende bewijzen verzameld in dit boek om aannemelijk te maken dat Bobby Kennedy er achter zat?