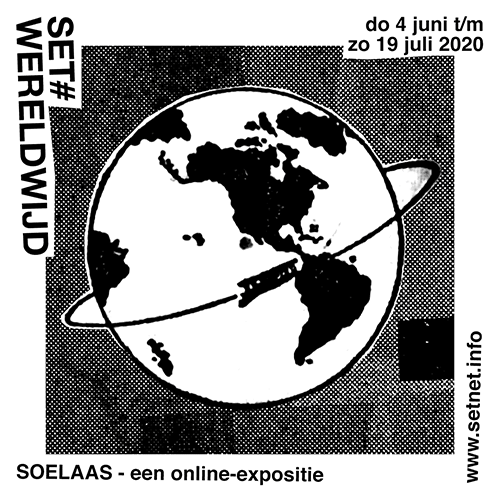 June 19, 2020; 8pm, Online opening
SET#NET toont site-specific werk en deze expositie is misschien nog wel meer locatie-gebonden dan vorige projecten. Elke kunstenaar kiest voor het werk een eigen SET#WERELDWIJD expositieplek. Omdat de expositie online plaatsvindt kunnen we ieder op elke plek ter wereld exposeren.
De 14 kunstenaars tonen eerst hun gekozen locatie en later een werk op deze locatie. Tenslotte zullen deze werken te zien zijn in museum, galerie, kunstenaarsinitiatief, beeldenpark of kunstbeurs.
Dit project schept mogelijkheden die er in werkelijkheid niet zijn. Nu alle culturele instellingen gesloten zijn of slechts beperkt open, nu reizen nauwelijks mogelijk is, gaan wij met ons werk de wijde wereld in!
De tentoonstelling zal vanaf 19 juni 2020 compleet zijn maar is al vanaf 4 juni tijdens de inrichting te bezoeken. Elke dag komen er nieuwe kunstwerken bij.
De opening is op 19 juni om 20.00 met een online event dus hou onze Facebook en Instagram in de gaten!
SOELAAS
Kan kunst troost bieden? En is die dan te vinden bij het kijken naar kunst of juist bij het maken daarvan?
De afgelopen tijd zijn kunstenaars geconfronteerd met de vele gevolgen van de pandemie. Met dit project stellen de kunstenaars van SET#NET zich de vraag of ze er in hun werk iets mee kunnen doen. En of ze dat ook willen?
Deelnemende kunstenaars:
Mirjam Berloth, Ester Eva Damen, Koos van der Elsen, Mareke Geraedts, Vera de Groot, Martine de Jong, Jacqueline Kooter, Bastiaan Meijer, Marja van Putten, Boudewijn Rückert, Hermine Stam, Annechien Verhey, Rob Visje en Wim Vonk.